Composites in Manufacturing Newsletter
Composites in Manufacturing Magazine'in haber bülteni aşağıda yer almaktadır.
The Composites Engineering show is almost upon us. As part of the Advanced Engineering 2018 showcase, it's the UK's only event dedicated to the composites manufacturing industry.
Birmingham NEC's halls 2, 3 and 3a will once again cast open their doors to mark the tenth anniversary of the very best in manufacturing innovations from this industry…
Latest News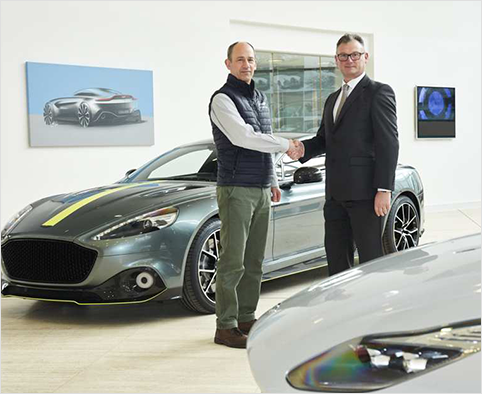 Aston Martin and TenCate announce technical partnership
TenCate Advanced Composites, part of the Toray Group and a leading global developer and manufacturer of advanced composite materials, and Aston Martin have announced…
R-TECH achieves Nadcap accreditation for composite materials
R-Tech Materials, one of the UK's leading test laboratories for composite materials, has announced that it has achieved Nadcap…
Northrop Grumman and Airbus finalise composite wing agreement
Northrop Grumman Corporation has announced it has finalised a cooperation and research agreement to work closely with Airbus…
Fire retardant bio-based prepreg used for lightweight train seating support
Composites Evolution, Bercella and Element Materials Technology (Element) have successfully completed the development…
Latest Features
NOVEMBER/DECEMBER COVER STORY: Blowing in the wind
Using pultrusion to manufacture wind turbine components – such as spar caps – can make operations more efficient. Lou Reade reports. Wind energy continues to grow in…
A decade of composite innovations
Composites Engineering, part of Advanced Engineering 2018 held at the NEC Birmingham, has firmly established itself as the UK…
The digital age of abrasives
Mike Richardson attends the opening of Mirka's new training centre to get hands-on with some of the company's latest abrasives…
A new challenger appears!
The cut and thrust of selling CNC machine tool products in the UK is competitive to say the least. Mike Richardson journeys to…
Latest Products
Techsil launches water clear 5min epoxy
Techsil has developed a new clear, epoxy adhesive called EP25880 Clear that cures fast and provides a strong, tough and durable bond on carbon fibre composite parts. Techsil's…
Zünd helps Italian customer increase routing capability
Italy-based Masserdotti Group, a European visual communications specialist, says it has substantially increased its routing capability…
Roth Composite Machinery adds robot winding to product range
Roth Composite Machinery says it now completes its range of products with the launch of its Robot Filament Winding Machines…
RAMPF unveils RAKU low density sculpting epoxy
RAMPF's new sculpting epoxy RAKU TOOL EP-2344/EH-2944 with E84 Class A Certification is said to open up a whole new range…
Click here to view this email online.

This email is intended for ihacialioglu@kompozit.org.tr

Please click here to unsubscribe.

MIT Publishing Ltd, Featherstone House, 375 High Street, Rochester, ME1 1DA, United Kingdom, Tel: +44 1634 830566. Registered in England and Wales, Reg. No. 3582315, VAT Number: GB683640418. Authorised representative Mike Richardson (Editor).

1998 – 2018 © MIT Publishing